Fifty Shades of Gre..Yoga is coming!
Ah yoga. The thing we all (okay only some of us) talk about starting, but never feel brave enough. It just so happens the latest teacher to run classes out of Kindred's dance and yoga studio might have your back.
Angel Long started practicing yoga as a way of distracting her from her surroundings. Overtime yoga taught her how to cope with the things in life she couldn't control. She is now giving people the chance to experience the same thing in her weekly classes running at Kindred.
Before she starts we thought we'd sit down and ask her a few questions.
When did you start teaching yoga?
Early January 2017.  It's the most wonderful experience to teach people who have never tried yoga before and see them grow each class. Most of my students didn't know you had to take your shoes off at the beginning of class and now they're arriving early to meditate!
What's something different your students can expect?
They're specifically designed for complete beginners or those with very little experience in yoga. Most people are scared to try yoga because they think they're not fit enough or they'll be intimidated by others who are "better" at yoga. I try to remove the doubts people have by only opening my classes to those who are beginners. My classes are very much focused on enjoying yourself and being able to have a laugh!
Why do you encourage people to start yoga?
Yoga is a wonderful way to improve your overall wellbeing and a great complement to any physical exercise. I think like most people, our biggest change in life comes after a hard experience. Yoga teaches you to relax and de-stress so why not give it a go?
In case you still need an excuse, Angel and her company Fifty Shades of Yoga are offering FREE CLASSES for their grand opening at Kindred on August 3.
FREE CLASSES:
Thursday 3rd of August 2017
10am-11am Beginner Yoga
11:15am-12pm Yin Yoga
Visit the Facebook event or follow Fifty Shades of Yoga on Instagram for more info.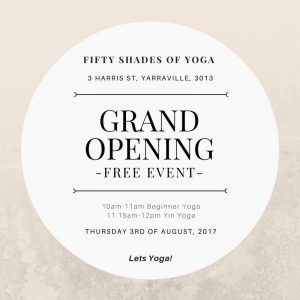 Want something more advanced? Why not try Feminine Spirit Yoga Classes with Susanne Calman?